Last November saw the city of Düsseldorf host another edition of MEDICA 2018 – World Forum for Medicine, at which Kiversal was proud to exhibit Audixi 10, the internet-enabled digital audiometer, in the Spanish pavilion.
MEDICA 2018: the world's biggest trade fair for medical products and technology
The 49th edition of the annual MEDICA trade fair, whichwas held from 12-15 November in Düsseldorf (Germany), welcomed 5,100 exhibitors from 70 different countries.
For the twentieth year running, FENIN, the Spanish Federation of Healthcare Technology Companies, coordinated the participation of 56 companies in this international trade fair. With a floorspace of 1,100 m², the pavilion housing the stands of the Spanish delegation was occupied by companies representing different medical sectors such as equipment for laboratories and in vitro diagnostics, physiotherapy, orthopaedics and electromedicine devices, in addition to consumer goods.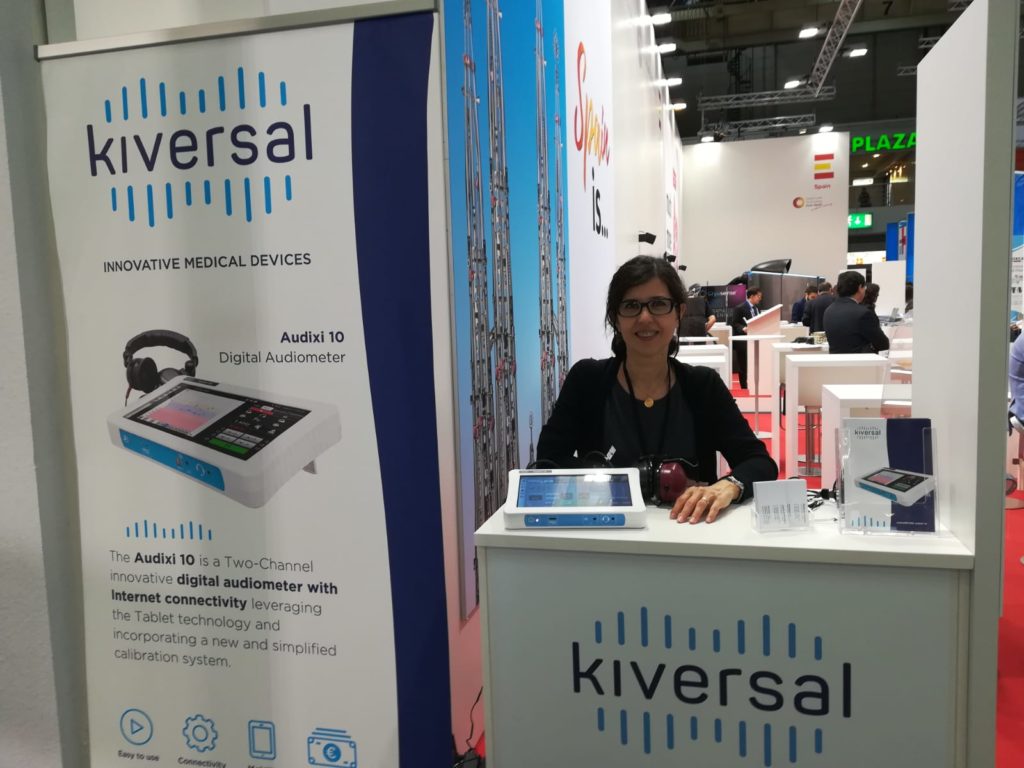 Kiversal was part of this Spanish delegation and had a stand in the pavilion, at which the company founders, Piedad Díez (CFO) and José María Plana (CEO) were on hand to inform the specialist audience about the features and benefits offered by Audixi 10 to patients and professionals.
Kiversal's second experience at MEDICA World Forum for Medicine
At the fair, visitors had the opportunity to test the Audixi 10 audiometer and gain exclusive insight into the features our medical device offers before its official market launch.
Many distributors had previously scheduled meetings with Kiversal during the event in order to see this innovative product first-hand. Kiversal CFO and co-founder Piedad Díaz comments that, "Our innovation in the new remote calibration support system, which eliminates unplanned downtime and ensures the audiometer is fully operational 100% of the time, has raised a lot of interest as it is no longer necessary to send the device to the factory for maintenance and calibration."
Over the four days of the fair, the Kiversal team observed that distributors and medical professionals are seeking a more portable device that is capable of easily integrating data into IT systems and incorporates a simple calibration system for more effective maintenance management. Moreover, as a prestigious meeting point for professionals and companies that centres on networking, MEDICA allowed new contacts to be made and opened the doors to future partnerships.
As in the 48th edition of MEDICA in 2017, the highlight of Kiversal's experience at the fair was how well the device was received and the great interest shown in it both by distributors and healthcare professionals. According to CEO and co-founder José María Plana, "Our product is a great fit in telemedicine systems: our internet native technology allows it to be connected to any IT system."